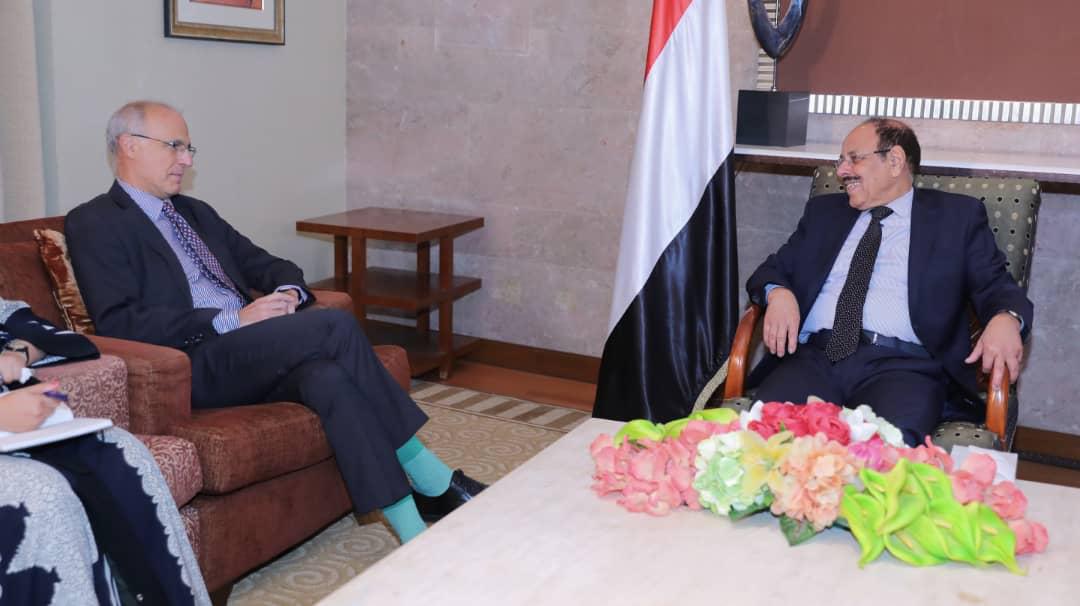 RIYADH-SABA
Vice President (Lt Gen) Ali Mohssen Saleh met Wednesday with Ambassador of the United Kingdom (UK) to our country Michael Aron.
The meeting aimed to discuss developments and underway efforts to establish permanent peace.
The Vice President has reiterated the political leadership's—headed by President Abd-Rabbu Mansour Hadi—support for peace efforts and government's constructive response to any good offices to establish permanent peace that is based on the three terms of references including the GCC's Initiative, its executive mechanism, outcomes of National Dialogue and International Security Council resolution 2216 in order to produce sustainable peace, eliminating the coup and reinstate official Yemeni Authority.
The Vice President said" Legitimate leadership headed by the President of the Republic considers the peace a principled choice and part and parcel of its mission, keeping in mind the Yemeni peoples' interest in all decision.
To this end, the political leadership gives Houthi militia one more chance for peace, in the hope that the militia may come back to the right path, puts Yemen's national interest above Iran's subversive schemes, and refrain from targeting the brothers, stop damaging the nation's interests for illegal power ambitions".
The Vice President reiterated the legitimate government's support for the UN-led efforts and willingness to carry out any trust building steps in order to prove whether the putschists are seriously acting about peace or not.
The British Ambassador reiterated his country's support for legality and the UN envoy, confirming that the UK is interested in making sustainable and fair peace in Yemen based on the three terms of reference.