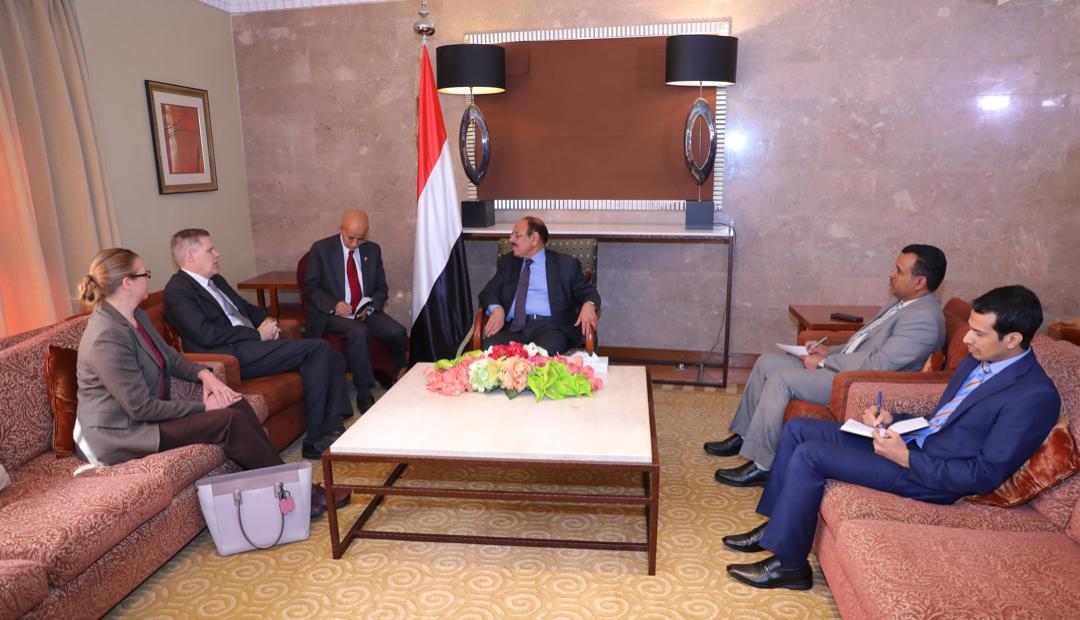 RIYADH-SABA
Vice President (Lt Gen) Ali Mohssen Saleh met on Tuesday with the American Ambassador to our country Mathew Tuller.
Discussions focused on the latest developments and underway efforts to establish peace in our country.
The Vice President expressed appreciation for the American administration for its principled stance toward Yemen's security and stability, and for supporting the legitimate leadership and underway efforts to hold peace consultations and resume political process. He praised the relationship between the two friendly countries in different fields, above all fighting terrorism.
(Lt Gen) Mohssen reiterated that the legitimate leadership headed by President Abd-Rabbu Mansour Hadi is dealing positively with permanent peace option that is based on the three terms of reference including the GCC's Initiative, its executive mechanism, outcomes of National Dialogue and International Security Council resolution 2216.
He emphasized the importance of focusing peace efforts consultations on implementing trust-building steps and international legitimacy resolutions, specifically resolution 2216.
The Vice President stated that Houthis have been deliberately seeking to further exacerbate the humanitarian calamity to exploit it to serve their own political purposes." The fact is that Houthis have been the main reason for deteriorating the situations as a result of their coup against the state, neutralizing the development and services facilities , looting the salaries of the employees and public funds", said Mohssen.
The Vice President urged International Community to double efforts to help the Yemenis re-establish security and stability, stop economic slide that Iranian scheme seeks to achieve. He also called for joining international efforts to prevent the regional and international risks of the Iranian regime's scheme.
The American Ambassador expressed his pleasure to meet the Vice President with aim of exploring prospects for resuming the political process that give rise to restore the state, ending the coup d'état. He reiterated the U.S. principled position and America's interest in the Yemeni peoples' interests, security and stability.