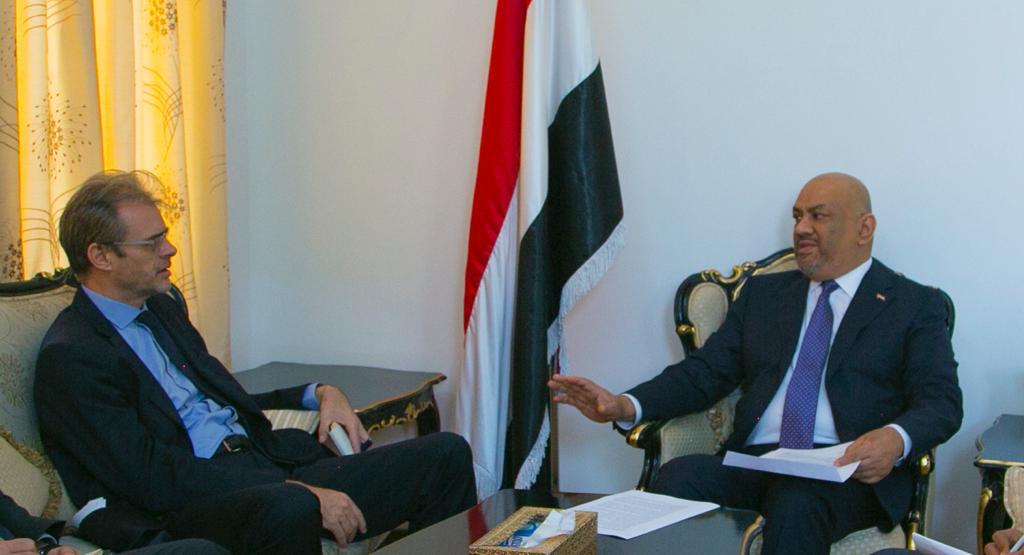 RIAYDH-SABA
Foreign Minister Khaled Al-Yemany met Monday with French Ambassador to our country Christian Testu.
Discussions focused on underway good offices by the UN envoy to Yemen Martin Griffishts who seeks to convene Yemeni parties for peace talks by the end of the year.
Al-Yemen has made clear that legitimate government is committed to support Mr Griffiths and it is willing to constructively respond to his call for new round of peace consultations before the end of 2018.
The Minister stated that it is very important for the UN and International Community to ramp up pressures to force the putschist militia to come to peace and make sure that it will not repeat what it did in recent Geneva's consultations.
Al-Yemany touched upon the ongoing developments in west coast and Hodiedah city. He stated that government's troops are keen on protecting civilians, infrastructure and ensuring the continuation of the harbor's operation to receive humanitarian aids and commercial commodities.
The French diplomat stated that his country is closely following the developments in Yemen and supporting the UN envoy's efforts to resume political process.