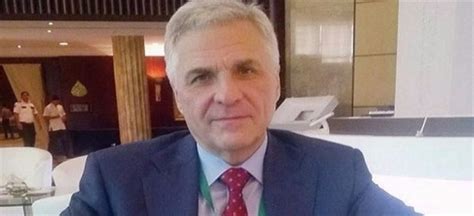 RIYADH-SABA
Russian Ambassador to Yemen Vladimir Dushkin has praised unique relations between the two countries, confirming his country's support to the government of Yemen and the Yemeni people for restoring the state and stability.
The cooperation between the two countries resulted in implementing a number of strategic projects in Yemen, including building electric plants, ports, airports, oil pipelines and fishery factories, Dushkin told Saba on celebrating passing 90 years of Yemeni-Russian relations on Thursday marked the first of November.
He added that the Yemeni army's weapons have been 90 percent from Russia, most of assistances have been provided freely, adding that Russia cancelled USD 6.4 billion from Yemen's debt to Russia and more than 50 thousand of Yemeni experts have been graduated from Russian universities in addition to constructional tools.
"Russians are respected and appreciated by Yemeni people, both peoples witnessed many difficulties across the history," said the Ambassador, pointing out that Russia has been supporting Yemen in political and humanitarian fields and after 2011; Russia has been one of the sponsors of the political process.
"Russia fully supports efforts of President Hadi in implementing this initiative (Gulf Initiative) and we stress our support to implement outcomes of the National Conference and I believe that the president has personally played significance role in holding the national dialogue and defining its outcomes," he said.
He pointed out that Houthi militia's coup has hindered plans of technical and scientific cooperation between Yemen and Russia President Hadi had agreed upon with Russian President Vladimir Putin during his visit to Moscow in 2013.
He confirmed that the coup has caused catastrophic result against Yemeni people and the war made it on the verge of humanitarian catastrophe and that the government works in exceptional conditions.
He confirmed that his country- as permanent member in the UN Security Council- will provide full support to the UN envoy and reviving talks for the security and stability of Yemen.