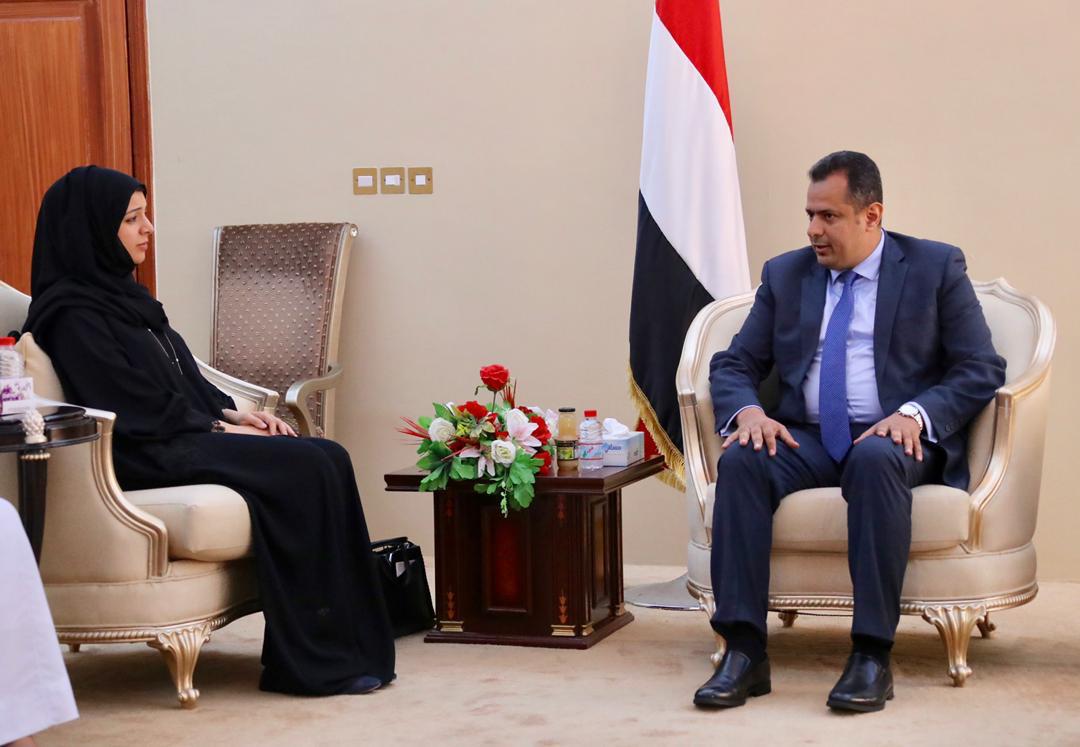 ADEN-SABA
Prime Minister Ma'eenAbdulmalik received on Tuesday the UAE State Minister for International Cooperation Reem Al Hashimi and the comrade delegation.
The meeting tackled challenges facing the government and reforming economic and humanitarian situations in the liberated and other provinces, as well as regaining development and normalizing security conditions.
The war triggered by Iran-backed Houthi militia resulted in destroying the infrastructure and seizing life of more than 70 percent of the people living in their held areas, including four million people in Sana'a.
He said the government will concentrate all its efforts in tackling economic and service situation and then normalizing conditions and reconstruction.
"The Yemeni citizen wants from us to provide him the basic services, especially in service and humanitarian fields, and whenever the government is strong in this field, there will be an interest to Yemeni people and their allies in the Arab Coalition," said Abdulmalik.
Prime Minister and the UAE delegation reviewed mechanism of activating income-generating institutions and Yemen's sovereign institutions and oil reproduction and exports in cooperation with brothers in the Saudi-led Coalition.
He praised UAE active efforts in Yemen since the launch ofthe "Firmness Military Storm" and its active participation in deterring Houthi coup and providing relief aid to Yemen.
Yemeni people are looking forward to an active role from the UAE brothers in reconstruction, he said.
For her part, the UAE official expressed her country's full support to the government of Yemen for accomplishing its tasks.
The UAE will continue to supporter to Yemeni people in their ordeal and provide all capabilities to the government to realize development and reconstruction, said Minister Al Hashimi.