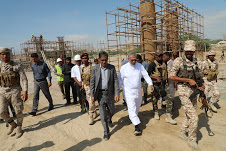 MUKALLA –SABA
Governor of Hadhramout Faraj al-Bahsani inspected on Sunday the ongoing constructional works at Halla and Ibn-Sina' two bridges.
The two projects cost USD 9, 2 million financed by Arab Kuwaiti Fund.
Governor al-Bahsani stressed significance of carrying out the two vital projects located on the western entrance of Mukalla on the defined time of one year and in accordance with technical standards.
He pointed out that Ibn-Sina' and Ambikha bridges are among the bridges affected by floods hit Hadhramout Province in 2008-2009 and their reconstruction has been stopped over the war.
He also inspected Ambikha Bridge, affected partially, and directed making a study for reconstructing it.