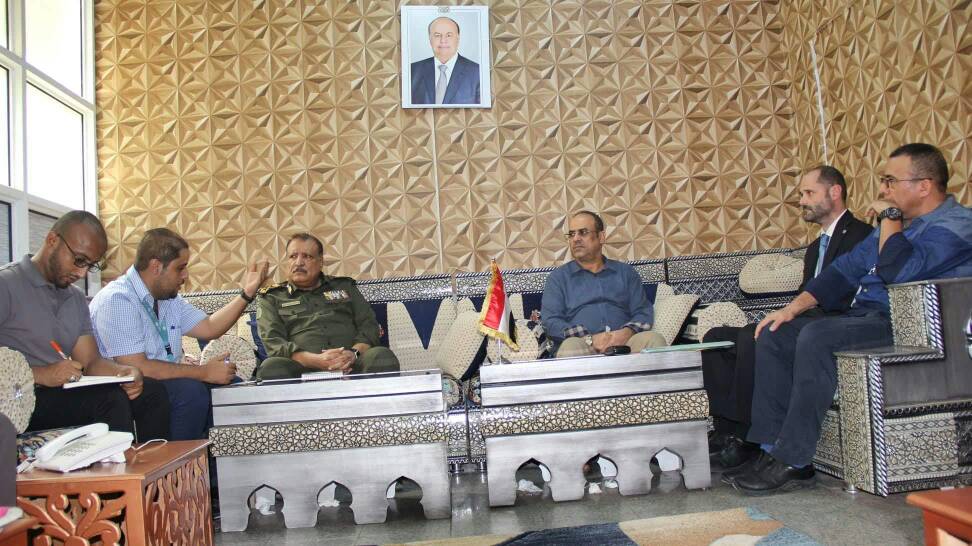 ADEN-SABA
Deputy Premier, the Minister of Interior Eng. Ahmed Al-Maysari met with a UN delegation for humanitarian, security and safety affairs in the temporary capital Aden on Tuesday.
Al-Maysari, along with the Deputy Interior Minister Ali Nasser Lakhshaa, received the Director of the Office of Humanitarian Affairs of the United Nations, André Reykjia and Office's Director of Security and Safety Affairs Victor Kubian and discussed with them the provision of UN support to alleviate the suffering of those affected by the war, especially the displaced people.
Al-Maysari pointed out that the Houthi militia has practiced various violations against civilians including imposing sieges, using civilians as human shields, starving and arresting people and forcible recruitment of children to the battlefields.
The UN officials discussed opening a UN office in Aden and reinforcing protection for the current office.
Al-Maysari said that the political leadership represented by President Abd-Rabbu Mansour Hadi and the government attache great importance to the UN offices.
"Despite all the exceptional circumstances in the country, we will do everything necessary to secure and protect the UN office in Aden.
We will work to overcome the difficulties facing the office's personnel who help alleviate the suffering of the people displaced by the Houthi militia," he said.