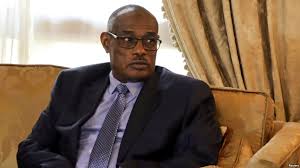 KHARTOUM - SABA
Sudanese Foreign Minister Dr. Dardiri Mohammed Ahmed said that his country's participation in the Arab Coalition backing the Yemeni government stems out of its commitment to the Arab issues and to restoring security and stability to Yemen.
In an interview with Yemen News Agency "Saba" in Khartoum, Dardari said that for the Sudanese Sana'a is the closest Arab capital, geographically, culturally and spiritually.
Sudan supports the efforts of UN special envoy for Yemen Martin Griffiths to find a peaceful solution to the conflict in Yemen.
He said that Sudan's relationship with the United States is progressing steadily, especially after both sides adopted the dialogue approach, which in its first phase has culminated in the US decision to lift unilateral economic sanctions on Sudan.
He pointed out that the arrangements are currently underway to start the second phase "which we look forward to proceed to remove the name of Sudan from the US list of terrorism and pave the way for the full normalization of relations between the two countries."
He said that Sudan is pursuing a clear foreign policy on all the issues, through which it seeks to fulfill its regional and international obligations, and to achieve the purposes of all parties, and enhance the spirit of cooperation and mutual benefit, security and stability of the region.
.