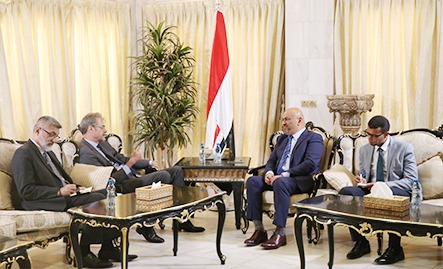 RIYADH-SABA
Foreign Minister Khaled Alyemany met Sunday with French Ambassador to our country Christian Testu.
Alyemany touched upon the UN envoy's underway good offices about Hodeidah's city and seaport. He stated that the Yemeni Government supports the UN envoy's effort and it has reacted constructively to his proposal about the Hodeidah's city and seaport and the two harbors of Al-Salif and Ras Essa in the hope of putting an end of the Yemeni peoples' suffering and establishing peace and security in Yemen.
Alyemany affirmed that the Yemeni Government is committed to reach a political solution based on the three terms of reference that ensures reinstating the State's authorities and making sustainable peace. However, the putschist militia is still insisting on fighting, turning down all peace proposals.
Alyemany reiterated that the problem with peace in Yemen is that the legitimate government doesn't have a responsible partner.
For his part, the French diplomat stated that they are closely following the UN envoy's, political and military developments, and they have been committed to support the legitimate government and the terms of reference governing peace process in Yemen and the UN track as the only approach to get the crisis in Yemen resolved.