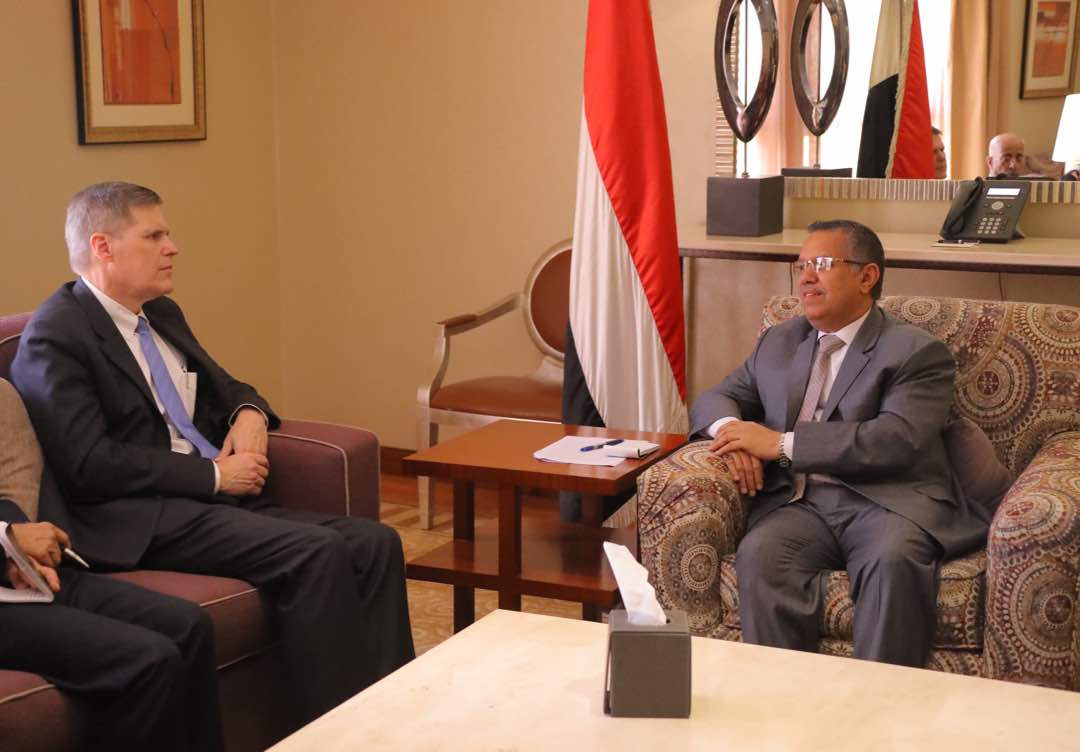 RIYADH-SABA
Prime Minister Ahmad Obeid bin-Daghr has praised US positions supporting the government of Yemen represented by President Hadi and its attitude in supporting the national will for facing Iran-backed Houthi militia.
In his meeting with the US Ambassador to Yemen Mathew Tueller on Monday, bin-Daghr reviewed situations in the liberated provinces, mainly the transitional capital of Aden, where it witnessed significant improvement in security and service fields. He pointed out that President Hadi directed approving a number of projects despite difficult conditions and scarcity of resources after Houthi seized YR 840 billion in 2017.
He stressed on subjecting all the country's resources under the Central Bank of Yemen's control so as the government will be able to perform its national responsibilities and paying salaries of all employees. He confirmed support of his government to efforts of the UN envoy in accordance with the agreed upon references.
He renewed call to the UN to press Iran to stop its interferences in Yemen's affairs and banning trafficking weapons-including ballistic rockets- and committing it to abide by international laws.
He confirmed that they will not allow Iran and its regime to threat "our national, regional and international security," clarifying that the Iran seeks to divide Yemen and harm its security and unity via its sectarian agenda.
The meeting dealt with the vision of the UN Envoy to Yemen Martin Griffith over Hodeida and peace process there. He confirmed government's welcome to any effort leading to realizing permanent, just and inclusive peace on the bases of the three references.
He stressed on showing goodwill by Houthis before any talks via releasing all prisoners and detainees under the sponsorship of the UN and easing access of humanitarian and relief aid to all Yemeni people, mainly Taiz, which under Houthi siege for three years.
For his part, the US diplomat expressed pleasure for meeting the prime minister and praised efforts of his government in liberated provinces, confirming his country's support to the legality and cooperation in fighting terrorism and ending the coup.
He pointed out that Iran's interferences pose threat on Arab and international security and there is a joint issue of success in fighting terrorism in Yemen must be accomplished.