[20/09/2018 03:34]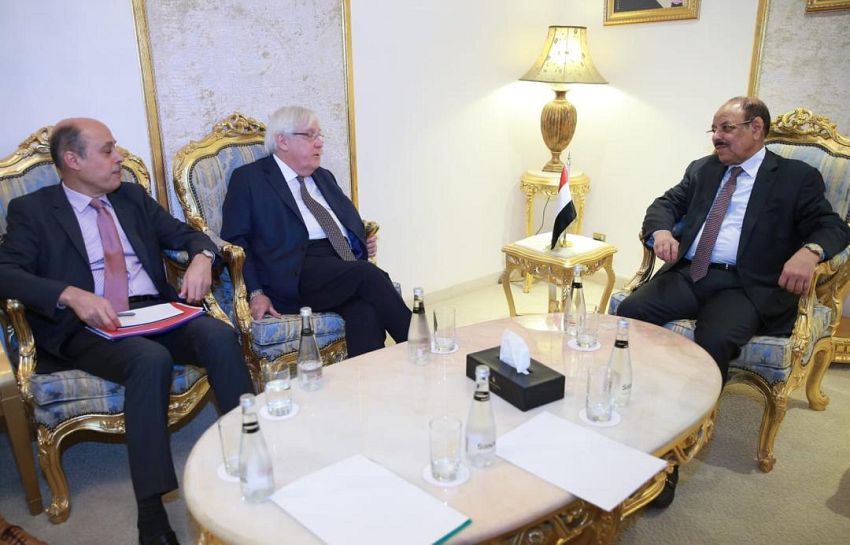 RIYADH-SABA
Vice President (Lt Gen) Ali Mohssen Saleh met Thursday here with the UN Secretary General envoy to Yemen Martin Griffiths. The meeting aimed to discuss the developments and the underway efforts to establish peace in Yemen.

The Vice President expressed his thanks for the UN's envoy, highly appreciating his significant good offices aiming to resume the political process. He reiterated the legitimate government's position and interested in achieving durable peace that is based on the three terms of reference that can put down the coup and restore the State.

The Vice President pointed out to the recent consultations suggested by the UN's envoy which the legitimate government dealt with positively. It is worthy to be noted that the legitimate government's delegation went to the planned consultations with good faith and dealt with constructively as usual, meanwhile the Iran-backed Houthis putschists kept on their intransigence, gave no attention to the Yemenis' souls and humanitarian suffering they have caused, they also didn't show any respect for the UN's efforts aimed to make peace.

The Vice President said:" We wished that the UN and International community would have firm stance toward the Houthis' rebellion and their negative response to the UN's peace efforts and calls. We wished that the UN and International community would seriously seek to carry out the UN's resolutions in relevance and to put in place what all Yemenis came to consensus about with regional and international support".

The Vice President stated that the legitimate leadership headed by President Abd-Rabbu Mansour Hadi and backed by the Arab Coalition has always been seeking for peace and has been fighting a defensive war to reinstate the legitimate authority that is national, regional and international recognized which illegally has been taken by the Houthis.

(Lt Gen) Mohssen called on the UN and International community to implement their own resolution 2216 about Yemen. He voiced appreciation for the Arab Coalition member states' position as well as the friendly countries' stance toward the coup and their support for the Yemenis in different fields.
The Vice President briefed the UN's envoy on the humanitarian situation that our country has been experiencing, citing the militia's atrocities against the Yemeni peoples in the Houthis-controlled regions.

He also affirmed the Yemenis' absolute rejection to take control over power by force and violence, stressing the importance of democracy, pluralism and elections given that it is the ideal method to reach power.

For his part, the UN's envoy expressed pleasure to meet the Vice President with the purpose of discussing the peace efforts.

The deputy of the UN's envoy Ma'een Sharim was in attendance.


---

Parliament Speaker inspects expanding constructions in Makah Port

President al-Alimi arrives in Riyadh to contribute to Arab-Chinese Summit

Al-Eryani: Iran's regime continues supply Houthi militia with weapons

President al-Alimi flies to Riyadh to participate in Arab-Chinese Summit

Basohaib discusses with Pragma capacity building program for planning ministry's personnel

Japan offers package of humanitarian aids worth $19 million

President of Leadership Council receives final report of the Security and Military Committee

Brig. Tariq Saleh and Al-Barakani lay foundation stone for two water projects in Dhubab district

Oppenheim: Negotiating with the Houthi militia is difficult

US Envoy: The actions committed by the Houthi militia constitute an insult to the international community