[15/09/2017 08:32]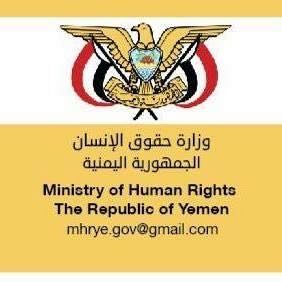 ADEN-SABA
The Ministry of Human Rights has made a new appeal to the international community to "act promptly to protect the civilians by pressuring on the [Saleh-Houthi] rebel militias to stop their systematic crimes."

The Ministry appealed in a statement it issued following the militias' killing of four people and injuring of 10 others, most of them children, by heavy shelling intoHawdh al-Ashraf neighborhoods in downtown Taiz.

The ministry said the shelling "is a serious violation of the international humanitarian law and a war crime against humanity that will not be barred by the lapse of time."

"The crime is committed in synch with the convening of the UN Human Rights Council's 36th session, a signal of defiance by these militias," added the statement.

The statement read: "This is not the first crime the coupists commit against the civilians in Taiz. But an episode in a series of shelling of highly populated neighborhoods by heavy and medium weapons almost on a daily basis for three years now. Add to that the oppressive siege laid around the city." The Ministry condoled the families of the martyrs.

The ministry's statement listed the names of the killed and injured with their ages as follows:
Killed
- HamoodMurad al-Solwi, 7 years old
- WaheedMokhtarAbdulhameed, 6 years old
- Sarem Sameer al-Jabal, 8 years old

The injured
- Ahmed Thabet Mohammed, 17
- Majed Yusuf, 20 years old
- Ali al-Khadher, 27years old
- KhadherMokhtar, 13years old
- Mohsen Mustafa, 8years old
- Abdulla Attashi, age not available
- Osama Jihad, 9 years old
- MutazAddoays, 10 years old
- Adel S. Qasem, 28 years old
- MaramThabet, the only girl, 11 years old.


---

Kuwait reaffirms continuous humanitarian support to Yemen

Al-Sa'adi discusses with UN advisor humanitarian situations in Yemen

Ambassador Yaseen discusses with French official latest developments in Yemen

Military source: 10 soldiers killed in two terror attacks by Al-Qaeda

Eryani: Increasing parricides in Houthi-controlled areas a result of radicalisation

Solicitor-General discusses with ICRC improving forensic medicine

Saudi Arabia, Jordan affirm support for Presidential Council & peace in Yemen

Yemeni-Kenyan relations discussed

Bin Mubarak appreciates Norwegian efforts to push peace in Yemen

Saudi Arabia, Egypt confirm support to efforts of political solution in Yemen