[01/04/2017 07:04]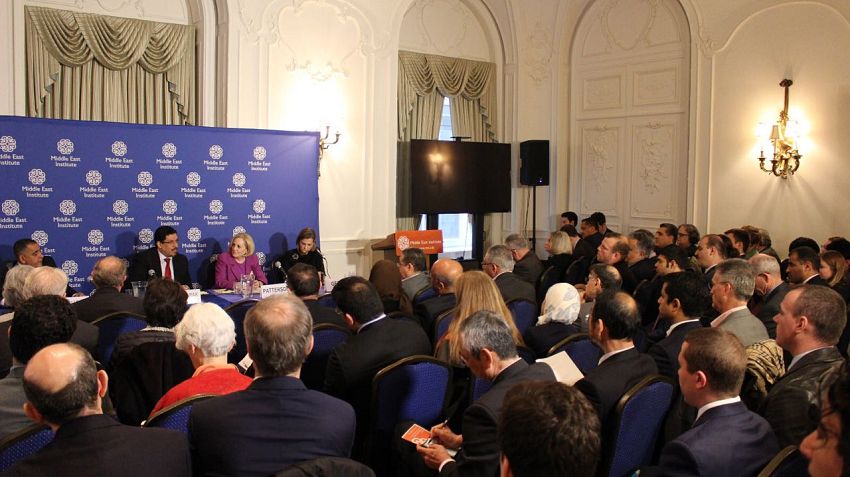 Washington,(Saba) - Houthi-Saleh Rebel Coalition's grasp of Power illusions is the key reasons of continuation of the war, said Yemen's Ambassador to the United States Ahmad Awadh bin Mubarak.

"The International Community, especially countries sponsoring the political process, should send strong messages to Houthi-Saleh coalition to end their power illusions," added bin Mubarak in a speech he delivered at the Middle East Institute here in front of UN envoy to Yemen, former US secretary of state, former US ambassador to Yemen and a number of Arab and foreign diplomats, as well as activists and journalists interested in Yemen.

He made it clear that the new US administration has sent positive messages will deter not only Houthi-Saleh's illusions but also Iran's aspirations in the region. "Yemen's crisis is neither sectarian nor regional but Iran's uncovered interventions in internal affairs pose a real danger to the security and stability of Yemen and the region."

The solutions are existed in the GCC Initiative, the National Dialogue Conference's outcomes and the UN Security Resolution No 2216 agreed upon by the international community, he said.

"Any other solutions ignoring these foundations will not be fruitful and successful."


He reminded that all Yemeni spectrums participated in the inclusive dialogue, including Houthis and Saleh and inked its outcomes but when their plots failed, they resorted to form a coalition to overthrow against the legal authority. He affirmed the solution will be only Yemeni and based on the three foundations.

"It is necessary to learn from the past mistakes as allowing Houthis in political process without transference into a political party, abandoning violence and handing over weapons was the greatest mistake," he said.

The second big mistake was granting Saleh's immunity by Gulf Initiative after 2011 Youth Revolution without guarantees banning Saleh not to disturb political process, he said.

There is no future to Saleh in the New Yemen, he asserted.



---

Chairman of Presidential Council arrives in Dubai to participate in climate summit

Foreign Ministry condemns Dutch parliamentarian's denial of the rights of Palestinian people

Council of Ministers reviews economic, financial, monetary reforms

Yemen presidential council chairman confirms full support for Egypt's position toward Palestinian cause

Leadership Council chairman welcomes temporary truce in Palestinian territories

Yemen welcomes ceasefire agreement in Gaza Strip

Ambassador Al-Maytami participates in Belt and Road Initiative conference in Jinhua, China

Yemeni gov't declares absolute rejection of Houthi terror threat to international shipping traffic

Prime Minister welcomes Director General of BTA in Aden

Planning Minister seeks British support for humanitarian, development programs