[04/06/2023 02:54]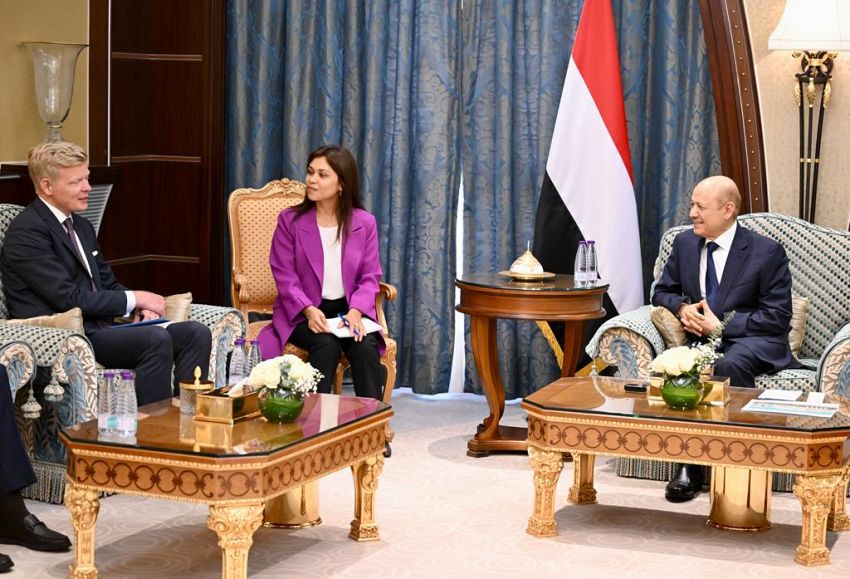 Riyadh – Saba
President Dr. Rashad Muhammad Al-Alimi, Chairman of the Presidential Leadership Council and his deputies Dr. Abdullah Al-Alimi and Othman Mujali received today the United Nations Special Envoy, Hans Grundberg.

The President of the Presidential Leadership Council and the two members of the Council were briefed by the United Nations envoy on the results of the envoy's recent meetings at the regional and international levels, and opportunities to build on the current diplomatic move to launch a comprehensive political process that meets the aspirations of the Yemeni people to restore state institutions, security and stability, and sustainable peace.

His Excellency the President affirmed the commitment of the Presidential Leadership Council and the government to support the efforts of the Envoy in accordance with the relevant Security Council resolutions, and the importance of integrating international efforts with the sincere initiatives of the brothers in the Kingdom of Saudi Arabia in order to revive the path of peace and alleviate the human suffering of the Yemeni people.

The President of the Presidential Leadership Council reminded the envoy of the Houthis' gross violations of human rights, including restrictions imposed on the movement of individuals and goods, and the militia's arbitrary measures against banks and chambers of commerce, private sector activities, public freedoms, and the militia's indifference to the disastrous humanitarian situation in the country.

The President clarified the objectives of the Houthi militia behind these measures, which include the retroactive confiscation of all bank interest over the past years, and the replacement of banks with a new banking apparatus affiliated with the militia similar to Hezbollah and the Iranian Revolutionary Guard, and the consequent activities of money laundering and terrorist financing.

His Excellency the President held the United Nations and the international community responsible for implementing the decisions of the Security Council, foremost of which is revealing the fate of the freedom fighter Muhammad Qahtan, demanding his immediate release, away from any discussions on this humanitarian file, which requires greater pressure to release all detainees, kidnapped and forcibly hidden in the prisons of the Iran-backed Houthi militia.


---

President al-Alimi receives congratulation cable from King Salman, Crown Prince

Leadership Council Chairman calls on militias to learn September lessons, abandon unviable project

Leadership Council Chairman concludes high-level discussions in New York

Leadership Council Chairman praises Yemeni expatriates' role in combating Imamite ideology, alleviating suffering

Leadership Council Chairman praises Yemeni-Egyptian relations

President al-Alimi discusses with UN Secretary General humanitarian developments, peace efforts in Yemen

Leadership Council Chairman calls for an effective response to the national immunization campaign

Leadership Council Chairman receives British Deputy Prime Minister

Leadership Council Chairman praises Yemeni-American partnership in the field of antiquities protection

Leadership Council Chairman congratulates Saudi leadership on Saudi National Day