[08/12/2022 12:28]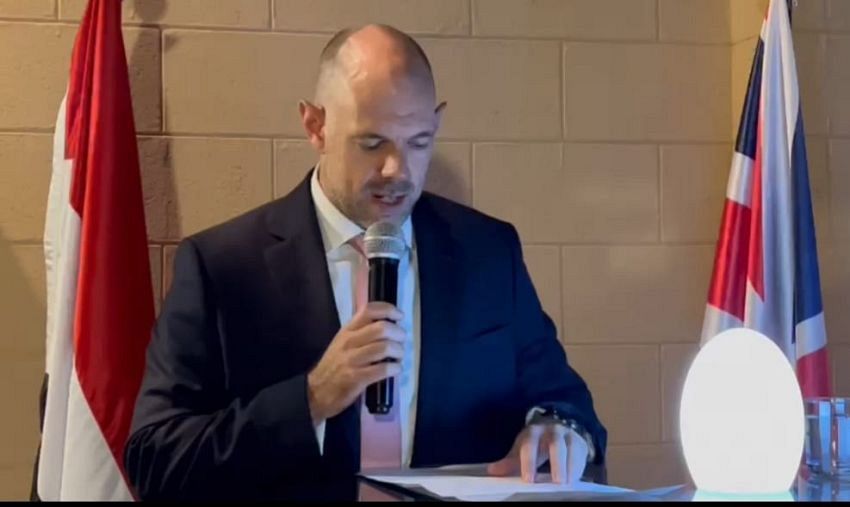 Riyadh - Saba
The British Ambassador to Yemen Richard Oppenheim said, "The recent terrorist attacks by the Houthi militia on the infrastructure in Yemen have put the government in a very difficult financial situation because it prevents it from exporting oil, and this makes it difficult for it to pay salaries and provide services on which millions of Yemenis depend."

"This economic war is completely unacceptable, and we will continue to condemn these attacks and do our utmost to help the Yemeni government to export oil," he added, during a reception organized by the ambassador for a number of Yemeni journalists.

The ambassador stressed the importance of focusing efforts on the continuation of the truce and the cease-fire as a way to work out a political settlement under the auspices of the United Nations. "We will continue to support the efforts of the UN envoy and the Presidential Leadership Council headed by Dr. Rashad al-Alimi in this direction."

He said, "It is important to preserve the gains that have been achieved so far, although none of this will be easy... As we all know, negotiating with the Houthi militia is difficult, and we are following the Saudi discussions with the Houthi militia."


---

Al-Eradah confers with Swedish Envoy peace efforts, Houthis' escalation

Al-Zaori discusses with NDI joint cooperation issues

Prime Minister reiterates commitment of the government to peace approach

Leadership Council Chairman stresses private sector's leading role in development

Yemen expresses solidarity with bothers in Syria, Turkey over earthquake

Brig. Gen. Tariq Saleh orders speeding up operation of Internet services in liberated regions

Banaja: CBY grants 6 licenses to microfinance banks

Al-Eradah confers with Lenderking over developments in Yemen

Leadership Council Chairman receives German delegation

Resumption of international flights at Al-Rayyan Airport in Hadramout