[14/11/2022 05:37]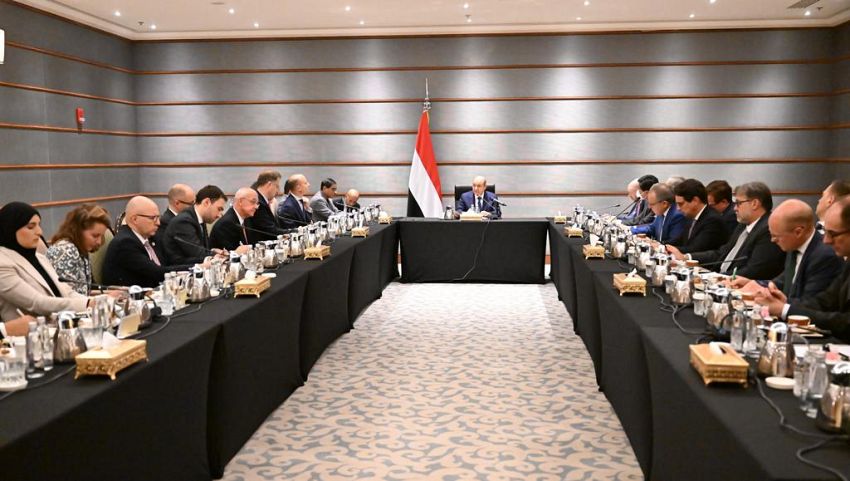 RIYADH-SABA
His Excellency President Dr. Rashad al-Alimi, Chairman of the Presidential Leadership Council, along with the Member of the Council Faraj al-Bahssani held session today, Monday, here with the Ambassadors of the Permanent Members of the International Security Council and the European Countries to the Republic of Yemen.

The meeting aimed to discuss the latest developments in the Yemeni arena and the repercussions of the Houthi terrorist escalation upon the humanitarian situations and the international peace and security.

The President provided a detailed presentation about the outcomes of the ongoing reforms the Presidential Council and government have been leading and the needed international support to bolster the reformative campaign.

He cited the progress realized in the areas of institutionalizing, services, controlling corruption and protecting human rights and freedoms, including activating the role of judiciary, auditing and controlling authorities.

He also President touched upon underway efforts to rebuild the two institutions of military and security.

The President confirmed that the Presidential Leadership Council and the government are committed to reach a comprehensive solution to the crisis according to the agreed terms of peace.

He recalled the peace efforts blocked by the terrorist militias including the declaration of the UN-brokered truce through which the Houthi militias proved that they aren't a truly peace partner.
President al-Alimi warned that the Houthis' terrorist attacks on the country's economic infrastructure may eliminate the peace good offices, besides the disastrous humanitarian implications and impacts that might include the government's inability to pay the salaries of the government's employees, failing to meet the basic needs of the population.

He confirmed that the government does reserve its right to respond to these violations which are backed by the Iranian regime.
He said" The escalation by the Houthis militias has proved to what extent these militias are manipulated by the Iranian regime whose operations in the region are orchestrated by Revolutionary Guards from one single black room".

The President pointed out to the government's measures intended to deter the Houthis' terrorist violations of the International Law in pursuant to the National Defense Council's resolution about designating the Houthis militias as a "Terrorist Group".

He reassured the humanitarian actions organizations that the government has taken into account that humanitarian and relief interventions will not be affected all over the country.

The Ambassadors have praised the government's initiatives to mitigate the humanitarian suffering, and its constructive dealing with the de-escalation efforts.

They also confirmed their full support for the economic and services reforms have been carried out by the Presidential Council and the government in the government-held governorates.


---

President al-Alimi receives Norwegian foreign minister

Leadership Council chairman meets US Secretary of State

Leadership Council chairman receives UN Special Envoy

resident al-Alimi congratulates Italian President on his country's National Day

President al-Alimi receives American Ambassador

Leadership Council chair praises GCC for supporting Yemen and its just cause

President al-Alimi congratulates Turkish president on winning elections

President al-Alimi convenes high-profile meeting includes Speakers of Parliament, Shura Council

President al-Alimi praises UK's support for the Yemeni people

President al-Alimi receives Ambassador of the People's Republic of China