[15/03/2019 07:59]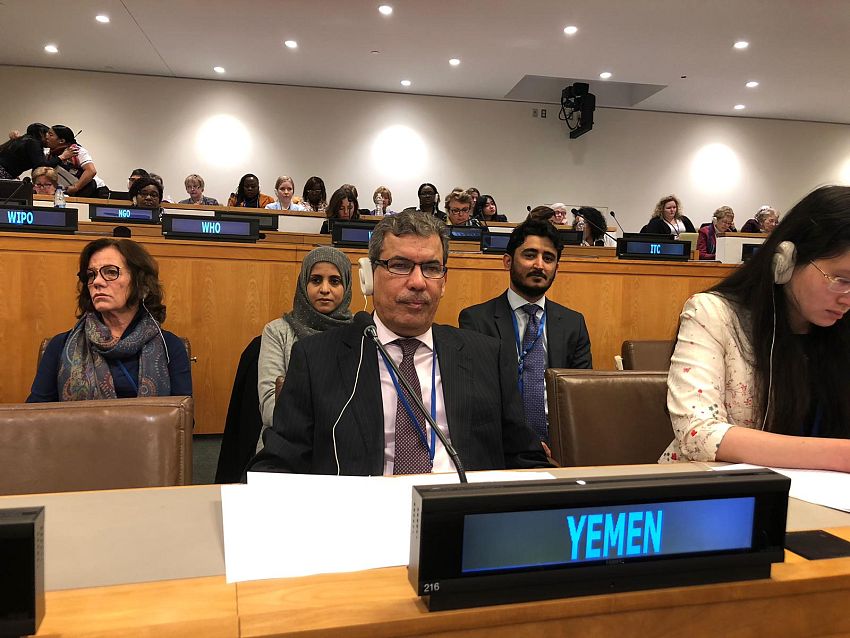 NEW YORK- SABA
The Republic of Yemen has confirmed that the government made a strategy for labor woman for increasing its participation in labor market in addition to including woman in the third five-year plan seeking to enhance her participation in development, economic and in decision making positions.

"The Government of Yemen has taken measures for ending discrimination against woman in field of realizing equality in national legislations via constitutional and legal means," saidthe Permanent Representative of Yemen to the United Nations in Yemen's release delivered Friday in the 63rd Round of Woman Situation Commission.

He pointed out that the outcomes of the National Dialogue Conference granted woman 30 percent of state representation and government's jobs and this also has been included in the new constitution Houthi rebel militia has plotted to hinder it.

He confirmed that Houthi militia's coup and the continuation of the war has led backlashes on development, labor market and deterioration of economic growth and the war destroyed infrastructure projects and increased suffering of the poor people, and poverty and fragility increased to reach 85 percent in 2018 to make more than 24 million Yemeni people, mostly women and children, need humanitarian aid.

" This round is being held in difficult times facing Yemen over Houthi militia's coup against political process, outcomes of the Inclusive National Dialogue Conference, aspirations of our Yemeni people for building democratic, civil and modern state … and seizure of the militia on the state institutions and hindered their activities," he said.

He made it clear the government of Yemen issued such decisions to enable woman of active participation like man in different fields and including gender in state public budget but implementation is still under demanded level over current situations Yemen goes through over Houthi militia's armed coup.

He confirmed that the wars and armed conflicts Yemen has witnessed led to negative results on development, increasing suffering of the poor and needy people doubledtheir need for humanitarian assistances, pointing out that women are more vulnerable during wars and armed conflicts and bear heavy burden over psychological, health, social and economic effects, in addition to displacement and forcibly migration or widowing.

He renewed government's keenness on activating the Security Council Resolution 2216 for confirming commitment of the International Declaration of Human Rights and all international accords and quickly held a workshop in Agust 2018 for making the general framework for the plan.

He also confirmed that the government formed technical committee for drafting the plan and the social affairs ministry's efforts resulted on drafting national plan for woman and for security and peace inconsistence with the Yemeni situation and included needed measures for protecting women and girls during and after conflicts.


---

Ministry of Industry decries Houthi militias for getting the Yemenis starving

Al-Eryani: Houthi Militia's escalation in Marib caused huge displacement wave

Prime Minister: We've to explore permanent solutions to power shortages

Baggash confers with Chinese diplomat over Houthi militias' escalations

Yemen participates in 26th session of the Committee on Science and Technology for Development

Eryani expresses surprise over international silence for Houthi abuse and atrocities against journalists

President al-Alimi: We're very keen to get all detainees released

Amb. Marmash seeks activating Yemeni-Iraqi agreements

Ksrelief distributes more than 169 tons of food aid in Marib

Yemen condemns settlers' incursion into the courtyards of Al-Aqsa Mosque