[30/12/2018 03:12]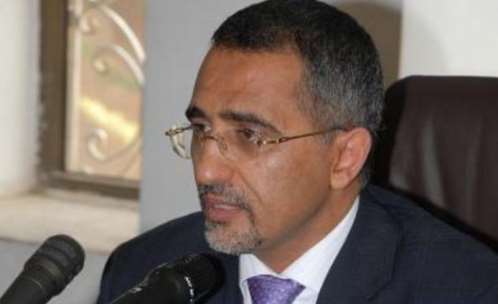 ADEN-SABA
The Governor of the Central Bank of Yemen (CBY) Dr. Mohammad Zimam has said the bank is working on strengthening institutional construction, mechanism of the banking activities and commencing preparations for establishing Aden Financial Center (AFC).

Talking to Saba upon arrival in the transitional capital Aden after work visit to Saudi Arabia and Jordan, Zimam added the AFC will include new premises of the CBY and centers to commercial banks, insurance companies and exchange companies.

According to Zimam, the center will be constructed on the bases of the most modern designs and will include the best security services and best technological services.

He mentioned that he informed President Hadi in a meeting in Riyadh on measures taken by the CBY in Aden on boosting the price of the Yemeni Riyal, pointing out that he participated in International Monetary Fund's (IMF)meetings on December 5-12 along with ministers of civil service, finance, oil and planning.

He made it clear that IMF's mission, which included Yemeni ministers, has been the most important mission revised the state budget figures and the meetings of the fund discussed the financial and cash policies of the government of Yemen.

Zimam also pointed out that he discussed with the Under-Secretary-General for Humanitarian Affairs and Emergency Relief CoordinatorMark Lowcock mechanisms of receiving cash assistances via the central bank and other supply needs for the forthcoming years, which made the bank ask for a new deposit of USD three billion.

He concluded that communications with a number of regional banks have been made for facilitating opining commercial communications Yemeni commercial banks and that preparations are underway for a state visit to Saudi Arabia for expanding commercial banks in Yemen.

Coordination with the Egyptian bank for implementing some duties in January and February 2019 with the central bank of Yemen is under way, he added.






---

Saudi King: Houthi militia insists rejecting peaceful solutions

Bin Mubarak discusses with Irish FM latest developments in Yemen

Brief terror designation of Houthis had positive steps and should be reinstated: Al-Eryani

High-level meeting discusses humanitarian crisis in Yemen

Supreme Judicial Council condemns execution of 9 citizens in Sana'a

Yemen VP congratulates Saudi Crown Prince on KSA's National Day

Al-Sharjabi discusses with German diplomat supporting water, sanitation sector

Yemen calls on UNSC to hold Houthi militia accountable for killing nine abductees

Yemen denounces failed coup attempt in Sudan

President Hadi congratulates king Salman on KSA's National Day