[28/06/2018 08:00]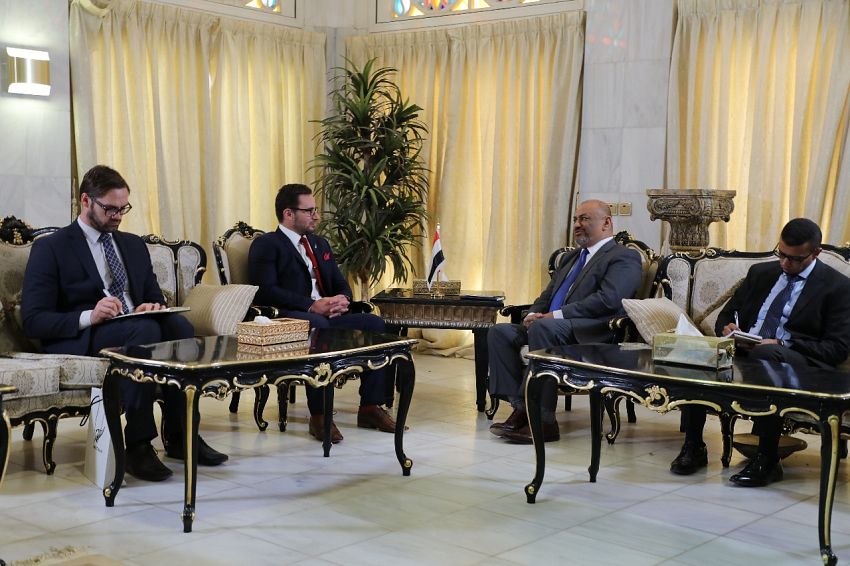 RIYADH-SABA
Minister of Foreign Affairs Khaled al-Yemani discussed on Thursday with the Ambassador of New Zealand in Yemen James Munro support of New Zealand to Yemen's government and humanitarian aid to the people.

The two parties also discussed situations in Hodeida, and al-Yemani pointed out that the military operation in Hodeida came after failure of all political efforts for guarantying withdrawal of Houthis and appointing international monitors on the port of Hodeida for banning use of the port for receiving Iranian weapons by Houthis and for insuring arrival of humanitarian aid to Yemen without any obstacles.

The military operations are going on taking into consideration commitment to the humanitarian law and with studied plans for ensuring the safety of civilians and private and public possessions, he said, adding the operations are accompanied by wide humanitarian and relief process to the city and nearby liberated areas.

Al-Yemani confirmed that Houthi rebel militia uses civilians as human shields and banning them out from the city and they created severe water crisis and caused pouring of water sanitation in housing compounds by digging trenches insides neighborhoods to double suffering of the people through spread of epidemics and utilizing these humanitarian suffering for stooping efforts of liberating Hodeida Province.

He added that the government of Yemen is so keen on keeping the port working and facilitating arrival of relief and trade items through the port to all Yemeni provinces as it is committed-via regaining the port of Hodeida- in ensuring the safety of international navigation passages southern the Red Sea.

He also confirmed that the government of Yemen maintains the political solution in the framework of locally, regionally and internationally agreed upon references.

For his part, the New Zealand diplomat confirmed support of his country to the government of Yemen and the political solution sponsored by the UN.

He confirmed continuation of relief and humanitarian assistance to Yemen and readiness of doubling efforts in this field.





---

Planning Minister meets new Resident Representative of the UNDP in Yemen

Minister of Industry confirms the strategic stock of basic commodities is assuring

Consultation and Reconciliation Commission stresses on adherence to declaration of power transfer

President al-Alimi returns to Aden

Rights group documents Houthi crimes against Hajjah people

FM meets US Ambassador

Ksrelief organizes bazaar for beneficiaries of Youth Empowerment Support in Mahra

Shujaadin seeks IAEA's collaboration with Yemen

President al-Alimi congratulates his Indian counterpart on the Republic Day of India

Social Affairs Minister meets with his Emirati, Libyan counterparts