[23/06/2018 06:04]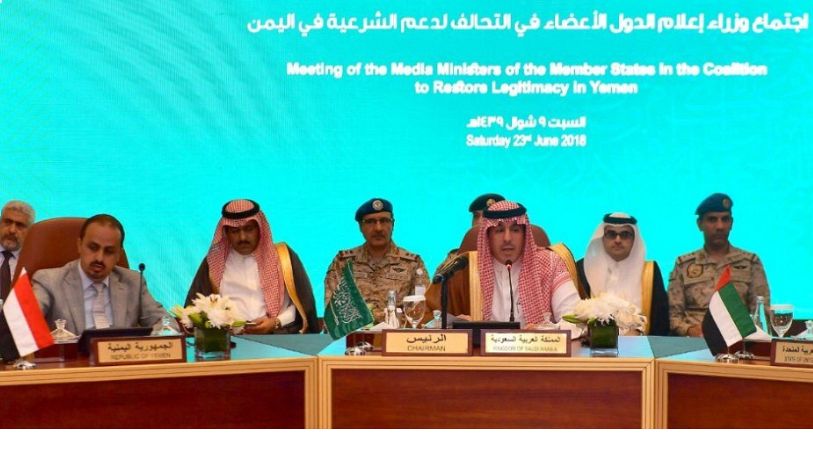 JEDDA-SABA
Minister of Information Muammar al-Iryani has said the political leadership represented by President Abd-Rabbu Mansour Hadi has exerted all efforts for realizing peace and ending the war triggered by Iran-backed Houthi militia and left tragic humanitarian consequences.

He pointed out that Houthi militia- as usually does- has rejected all calls and appeals for returning to the right and wise track, handing over weapons and have a share in an inclusive political process in accordance with the three references; the GCC Initiative, the Outcomes of the National Dialogue Conference and the UN Resolution 2216.

" Our experience with this militia is bitter and is a not new one but extends to decades; We have seen in them treasury, betrayal and breaching pledges and agreements," said al-Iryani in his speech he delivered on Saturday in the Meeting of Information Ministers of the Arab Coalition's countries held in Jeddah.

He explained that Houthi militia breached the treaties of stopping the six wars they waged against the state before their coup in 2014, the outcomes of the national dialogue conference, the draft of the constitution of the federal Yemen and finally broke all humanitarian truces agreed upon since the beginning of their coup against the state.

Houthi militia will not resort to peace only if they have been militarily beaten, he said, adding then they regroup to rebel against the state as this has become a real experience in dealing with them.
" We do not have any other choice but only one, cutting Iran's hands in Yemen and regaining the rest of areas from the militia's control and then peace, stability, development, decent life to Yemeni people…. will be achieved," said Minister al-Iryani.

He pointed out that the joint information experiment in the Arab Coalition since the beginning of the Military Firmness Storm has been unique example in facing Iran's huge information machine and of its allies and that the Coalition's media has unearthed what has been going on in Yemen and reveled the fabrications of the coup's media on misleading the regional and international public opinion.

While he thanked all media outlets supported the Yemeni people, he expressed deep thank to Saudi Arabia Information Ministry for their great support to Yemen's information institutions and for generous hosting of Yemeni media outlets and hundreds of journalists.

He called on the international community and organizations to exert pressure on Houthi militia for releasing kidnapped journalists, politicians and activists.


---

President al-Alimi returns to Aden

Shujaadin seeks IAEA's collaboration with Yemen

Social Affairs Minister meets with his Emirati, Libyan counterparts

BinMubarak, German official explore peace prospects

Al-Erradah, Military advisor of UN's envoy discuss the Terrorist Houthi militias' escalation

Minister of Youth meets with senior advisor of Norwegian Foreign Ministry

Planning minister meets delegation of the Ministry of Foreign Affairs and Commonwealth Affairs

Camp to Haima displaced people to be established in Khokha

Al-Eradah confers with Turkish Ambassador over developments in Yemen

Yemen's Ancient Kingdom of Saba added to UNESCO's World Heritage List