[16/05/2018 05:17]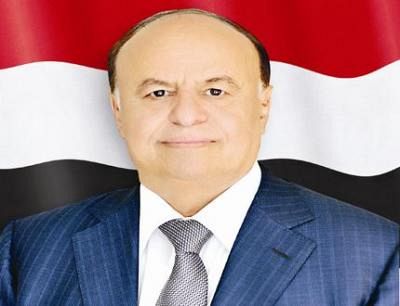 ADEN-SABA
President Abd-Rabbu Mansour Hadithe Houthi coup and years long insurgency have triggered the world's worst humanitarian crisis.

In an address to the nation on Wednesday evening, the eve of the holy fasting month of Ramadan, Hadi said, "Here comes Ramadan for the 4th straight year, while parts of our dearly homeland is still under the control of the theocratic bloody militia of Houthis. By their coup d'état, with Iranian support, and by setting off a war against the Yemeni people, they have triggered the world's worst humanitarian crisis."

Hadi said that Houthisinvolved in "implementing the sectarian agenda" of the Persian state which is "obsessed with the dreams of seizing the Arab world."

"I tell my steadfast people ..I am experiencing your suffering and your economic hardships. I can also feel your and your children's being robbed of rejoice," he said.

"This bloody coupist guerilla brought sadness to every Yemeni home. Even the areas where they did not show up were affected by the militia's seizure of public resources and feeding of extremism and terrorism," he said.

"I am working with a dogged determination with the government of premier Ahmed bin-Daghrto reverse all the difficulties and provide the people with basic services.

"You all know that this war was not our choice at any day. We tried by all means to avoid it. Even after its ignition, we worked and we are still working to end it. We have offered concessions and more concessions."

He said that the past three rounds of peace talks and Houthis avoidances of peace showed the Yemeni people and the international community that the Houthi rebels are merely puppets manipulated by Tehran.

Hadi said that "we renew our pledge that we won't accept for Yemen to be a backdoorfor infiltrators to sneak through and disturb the regional security."

Hadi said that "this holy month has come as we become closer sever to victory thanks to the sacrifices of the perseverant national warriors and the brotherly support of the Saudi-led Arab Coalition.

Hadi gave special thanks to King Salman bin Abdulaziz Al Saud, his Crown Prince Mohammed bin Salman and the rest of the Arab Coalition leaders for their historical rush to the rescue and help of Yemenin 2015.

"We renew the pledge that Yemen won't shed its Arab skin and lose its tolerant Islamic culture in favour of an outlandishsectarian culture."


---

President al-Alimi congratulates on India's independence

President al-Alimi congratulates on Indonesia's independence

The President of the Presidential Leadership Council heads to Abu Dhabi on an unofficial working visit

President of the Presidential Leadership Council meets Presidency of the Consultation Commission

Chair of the Presidential Leadership Council receives credentials of the Libyan ambassador

Appointing Faez Qahtan, Commander for Second Military Region

President meets with Parliament Speaker, MPs on latest developments

Presidential Council chair puts Yemeni people before the reality of the situation in Shabwa

President and members of the Supreme Judicial Council

Leadership Council holds first meeting with the judiciary