[24/10/2017 02:02]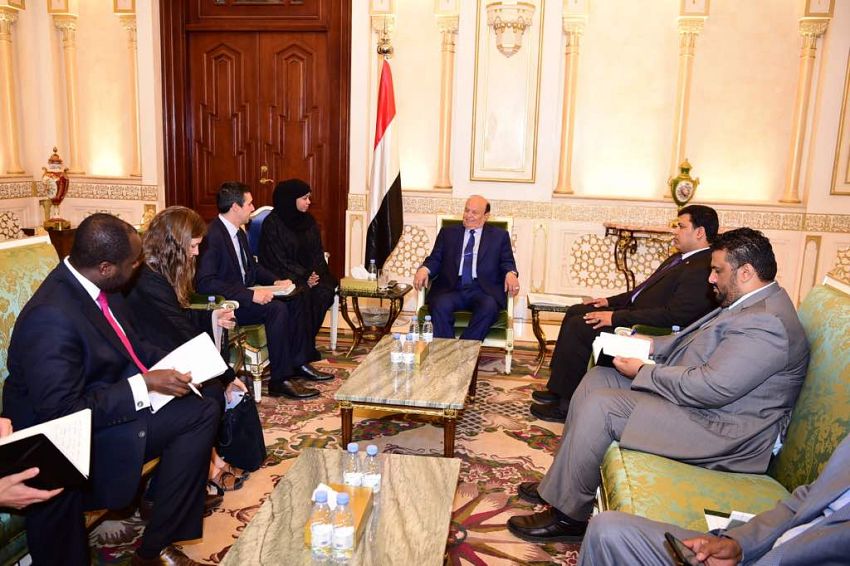 RIYADH-SABA
President AbdoRabbu Mansour Hadi received on Tuesday the Head of Arabian Peninsula Department at the British Foreign and Commonwealth Office Neil Bush and the accompanying delegation.

President Hadi discussed with UK officials peace efforts and efforts of Yemen's leadership for realizing peace.

He talked about the current situation in Yemen and experience of past years- with their challenges- and huge aftermaths over Houthi-Saleh's war on the Yemeni people and national consistence, which complicated humanitarian suffering and increased poverty and epidemics.

"We are advocates of peace and stability and this is our approach for which we shouldered the responsibility of the country and implemented practical ways in this frame with different national forces and social factions of youth, women and civil society organizations," said President.

For that purpose, added the president, we draw the future of new Federal Yemen based on justice, equality, good governance and equal shares of power and wealth for protecting and securing the future of Yemen away of partial and utilitarian solutions, which have sectarian and regional frames will reproduce the cycle of clashes.

"But Houthi-Saleh rebelled against this consensus for it is contradicting their thought and priestly approach deep in their belief in mullah rule, which is not known by our society and country, a matter is rejected by our people who agreed on the project of the Federal Yemen as a fruit of the regionally and internationally-backed the National Dialogue Conference and boosted by international legitimizations and sponsored by the United Nations," said President.

He added, our hands will continue to be extended for just peace in accordance with the three references, the peace that ensure the future of Yemen and generations to come "the peace, which saves blood and bans aggression and proxy war on our country and our region."

President valued support of the United Kingdom to Yemen and its legal leadership in different positions and international forums, pointing to activating Yemen's friends group for supporting it economically under the leadership of the UK and Saudi Arabia.

For his part, the UK official confirmed his country support to Yemen and its government, saying his country is interested in Yemen and hopes that Yemen overcomes current status quo and realizes the peace Yemeni people admire.

"We support efforts of the UN in this framework and of its envoy to Yemen for realizing peace and improving economic and humanitarian situation in Yemen," said Bush.


---

President al-Alimi congratulates his Indian counterpart on the Republic Day of India

President al-Alimi congratulates Australian Governor on National Day

President al-Alimi congratulates Iraqi president on winning Gulf Cup

Leadership Council president stresses need to correct erroneous narratives regarding Yemeni issue

President al-Alimi receives governor of al-Mahrah

President al-Alimi receives al-Ahmar family

President al-Alimi appreciates UK's efforts to alleviate humanitarian suffering, push peace

Prime Minister details President al-Alimi on the government's efforts to manage challenges in different domains

President al-Alim receives UN's special envoy

President al-Alimi receives American envoy, Ambassador to Yemen