[03/08/2017 03:40]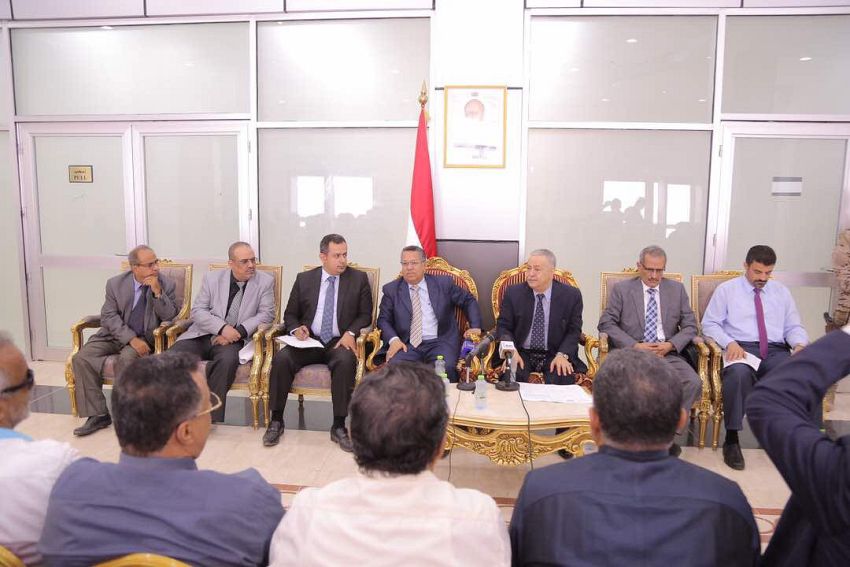 ADEN-SABA
Prime Minister Ahmed Obeid bin-Daghar on Thursday said that Iran will not be allowed to achieve victory in Yemen.

In a meeting held in Aden with Aden Governor, ministers and officials of Aden's local council, the premier also affirmed that the Houthi-Saleh militias will not be let to undermine Yemenis' values and national project, stressing that the Yemenis will stay firm and resolute until the victory desired by the Yemenis is achieved.

The premier stressed the importance of collaboration and institutional work, pointing out that these things will give Aden an important position among regional and international states.

He noted that Aden is a beacon of Yemen and a city of enlightenment, indicating that it was deprived of services, its people were marginalized and its ports and coasts were not exploited in an appropriate way.

Bin-Daghar further said that it is time develop Aden in different fields, affirming that Aden will be secure and stable, and it will also open up to all Yemenis, and local and international investments.

He said some figures fight in order to prevent Aden from being a capital, asserting that they will fail and a federal state will be created on the basis of the National Dialogue Conference's outcomes.

The prime minister emphasized that assistances will be delivered to all Yemenis and that the government does best to alleviate their suffering
"Southerners were marginalized, excluded and oppressed. The northern governorates were also dealt with the same policies.

So, the peaceful southern movement emerged in 2007 and expressed rejection to all sorts of exclusion, marginalization and oppression after many people were dismissed from their jobs" bin-Daghar added.

He spelt out that all people will cooperate with the local authorities to develop Aden, pointing out that a lot of services were improved and salaries were also paid.

The premier further said that the electricity station of al-Haswah in Aden is currently being maintained and re-fixed with a cost of $30 million and that another station will be established, signaling out that Aden will witness development of different services in the next months.

For his part, Aden Governor Abdul-Aziz al-Maflahi spoke about a number of problems Aden is still facing, reiterating that all challenges and difficulties will be overcome in collaboration with all men and women of Aden.

The governor labeled Aden as a wealth, asserting that this wealth is still being taken over by a corruption lobby.

He also said that random construction is among the outstanding problems Aden is facing, underlining that this issue and others will be tackled and ended.



---

BinMubarak briefs Malley on Iran's spoiler role in Yemen

Endowments Ministry condemns terrorist attacks on mosques in Hodeidah, Hadramout

FM meets Japanese State Minister for Foreign Affairs

WB provides Yemen additional donation worth USD 150 million

Al-Bahssani condemns the terrorist crime against worshipers at Azyar mosque on Friday

Head of Leadership Council returns to Aden after a successful regional tour

FM participates in panel discussion on Yemen at the Mediterranean Dialogues Forum

Houthis' drones attack on mosque kill one civilian, hurt three in Hodeidah

Yemeni-Slovenian bilateral relations discussed

Al-Eryani briefs German official on the implications of Houthis' terrorist attacks on Yemeni seaports