[20/07/2017 06:32]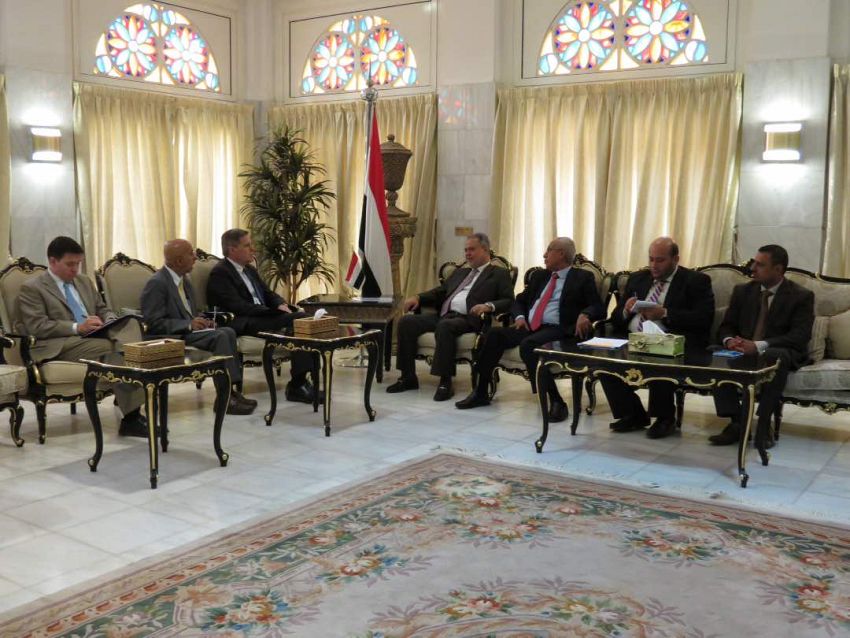 SANA'A- SABA
Yemen's Deputy Premier and Foreign Minister Abdul-Malik al-Mekhlafi has received a memo from the US government concerning the cooperation measures required between Yemen and the US to relax the latter's travel ban on Yemeni passport holders.

Al-Mekhlafi received the memo during a meeting with the US ambassador to Yemen Matthew H. Tueller Riyadh on Thursday.

The US ambassador affirmed the importance of coordination with the Yemeni government to facilitate the travel of Yemenis, especially businessmen, students and relatives of Yemeni-Americans, to the US.

The ambassador said his country is keen on assisting Yemenis and promoting the cooperation and communication to achieve the review of the ban as soon as possible within the span of time that precedes the renewal of the ban decision.

The Yemeni minister and US ambassador also discussed a range of other issues of common concern; the fight against extremism and terrorism, the government's Arab coalition-backed control on newly liberated areas to prevent extremists from filling the vacuum, control on areas where the rebels and terrorist organizations develop common interests such as human trafficking and other illegal activities.

The meeting also discussed the UN envoy's proposals concerning the Hodeidah seaport and salary payments for public servicemen.

The minister said the government welcomes the proposal concerning the seaport handover and government collection of revenues - currently being used by the rebels to finance their war - in return for the government's payment of civil servants in militia-controlled areas.

The US ambassador noted the Yemeni government's efforts to fight terrorism in areas under its control and the government's positive attitude toward the UN envoy's proposals.

Tueller reiterated his country's support to the security, unity and territorial integrity of Yemen.

The ambassador said he does not acknowledge any Yemeni political entity that does not acknowledge the internationally recognized government. He said the US administration would continue to support the Yemeni government until the achievement of peace, security, development and reconstruction.



---

Leadership Council continues to discuss local situation & repercussions of Houthi terror attacks

Yemen, Arab Monetary Fund sign agreement worth one billion dollars

Lamlas meets with UNHCR representative in Yemen

Marmash receives deputy head of the Foreign Relations Committee of the Iraqi Parliament

FM meets US ambassador to Yemen

Defense Minister heads to UAE on an official visit

Parties to Ottawa Agreement on landmines agree to keep support to Yemen five year more

Al-Bahssani urges military, security forces to get ready to protect economic facilities

Yemen participates in OIC Standing Committee meeting in Istanbul 11/26/2022

Leadership Council member Brig. Tariq Saleh discusses conditions of Dhubab district