[11/04/2017 05:31]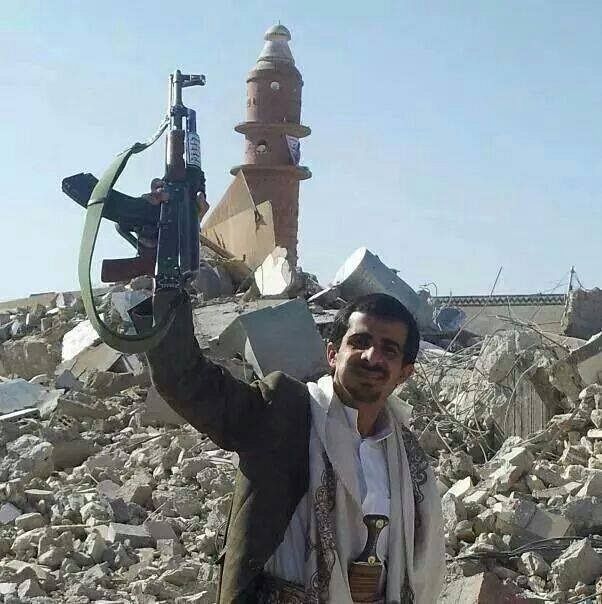 Riyadh (Saba)- A report prepared by the Program of Communication with Yemeni Religious Scholars has revealed that the Houthi-Saleh militias blow up, bombed and looted 755 mosques, and abducted 150 imams of mosques from a number of governorates.

The report entitled "Houthi brutal crimes committed against mosques and worshippers in Yemen" indicated that the violations included complete explosions, destructions with tanks, looting, storming and turning some mosques into military barracks and weapon depots.

It also registered all violations committed by the coup militias during four years, since they attacked the area of Damaj in Saadah governorate in 2013.

"The capital Sana'a was ranked first with regard to violations committed against mosques as 282 mosques were violated. Saadah stood second with 115 mosques were infringed" the report added.

The report, which the Yemeni News Agency (Saba) has a copy of it, spelt out that 80 mosques were blow up with dynamite and explosives devices. and that 41 mosques were largely damaged. It further mentioned that 157 mosques were turned to military barracks and weapon depots, and that 16 Quran teaching centers were exploded.

"The Houthi-Saleh militias exploited mosques to spread sectarian ideologies, replaced their imams, abducted 150 ones, most of them are subjected to torture on a daily basis in underground custodies. 69 imams were taken from the capital Sana'a and Sana'a governorate, 29 ones from Hodeidah and 29 others from Ibb.

The report concluded that the Houthi-Saleh militias contributed in tearing apart the social fabric, threatened peace and the national security, spread chaos and murder, and exported Iranian sectarian ideologies to spread them amid people.



---

Yemen joins Sessions of International Development Association

Saudi Arabia, Qatar confirm full support to solving Yemen's crisis

Chief of Staff discusses with Egyptian Counterpart military cooperation

Electricity Minister, Korean Ambassador discuss cooperation in Energy

GCC confirms its full support for Presidential Leadership Council to reach political settlement

Water Minister participates in the first high-profile meeting on the fair transition

Yemeni embassy in Riyadh first station abroad to see launching of smart ID cards

Yemen condemns Israeli occupation forces' resumed aggression on Gaza

UN Security Council condemns acts of piracy and attacks on ships by the Houthi militias

President al-Alimi warns of delay of facing challenges of climate changes