[06/07/2022 02:32]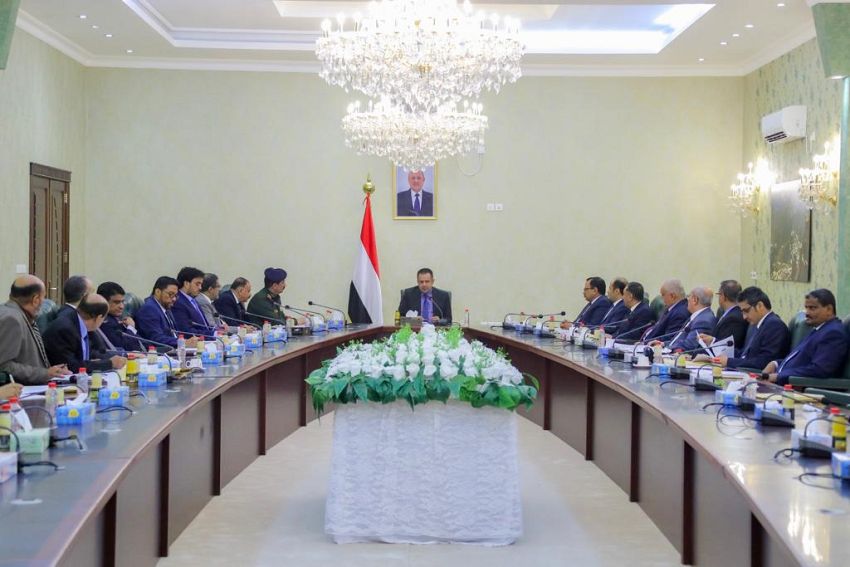 Aden - Saba
The Council of Ministers, in its meeting today, in the temporary capital Aden, headed by Prime Minister Dr. Moeen Abdul Malik, welcomed the statement of the Presidential Leadership Council regarding the fast track to absorb the support provided by the brothers in the Kingdom of Saudi Arabia and the United Arab Emirates.

The Council praised what was agreed upon during the meeting of the President of the Presidential Leadership Council, Dr. Rashad Al-Alimi, with the Saudi Deputy Minister of Defense, His Royal Highness Prince Khalid bin Salman, in order to accelerate the absorption of Saudi-Emirati funds estimated at about three billion and 300 million dollars in support of the Central Bank of Yemen and development and humanitarian projects, pointing to what this represents to alleviate human suffering, improve services, and achieve economic and living stability for citizens.

The Council of Ministers renewed the expression of Yemen's leadership, government and people's appreciation for the prominent brotherly role of the Kingdom of Saudi Arabia and the United Arab Emirates, and their strong support for Yemen as land and people in various fields, positions that will remain immortal in the memory and conscience of the Yemeni people, praising the efforts of Saudi institutions and bodies in the forefront of which are the Saudi Program for the Development and Reconstruction of Yemen, the King Salman Center for Relief and Humanitarian Action, and their role in rebuilding institutions, improving services and providing relief to the Yemeni people in various parts of the country.

Dr. Moeen Abdul Malik reviewed the latest developments at the various political, economic, service, military and security levels, and the directives of the Presidential Leadership Council to the government on a number of issues.

He referred to the security situation and the efforts of the military and security forces in pursuing terrorist elements and thwarting their plans to destabilize security and stability in the temporary capital Aden and the liberated governorates. .

The Prime Minister referred to the measures taken by the government to mitigate the repercussions of the global economic crisis on the living situation of citizens, and to continue to monitor the developments of the crisis and take the necessary and urgent decisions whenever necessary, referring to the ongoing efforts to improve services in light of benefiting from the urgent allocations from the brothers to support electricity with oil derivatives.

The Council of Ministers studied the Houthi militia's continued intransigence in not implementing the terms of the UN-brokered truce, and the existing coordination with the United Nations and the international community to put an end to this absurdity and alleviate the human suffering of Yemenis, stressing that it was unacceptable to continue the international silence and not to stand seriously and firmly in the face of the refusal and intransigence of militias.


---

Water Minister participates in the first high-profile meeting on the fair transition

Yemeni embassy in Riyadh first station abroad to see launching of smart ID cards

Yemen condemns Israeli occupation forces' resumed aggression on Gaza

UN Security Council condemns acts of piracy and attacks on ships by the Houthi militias

President al-Alimi warns of delay of facing challenges of climate changes

President al-Alimi holds meetings with participating presidents in COP 28

President al-Alimi, Member of PLC al-Zubaidi participate in COP 28

A sister city agreement signed between Taiz and Djibouti governorates

Yemen, Morocco sign judiciary cooperation agreement

Prime Minister initiates roundtable discussions between government and UN in Aden