[25/09/2019 08:07]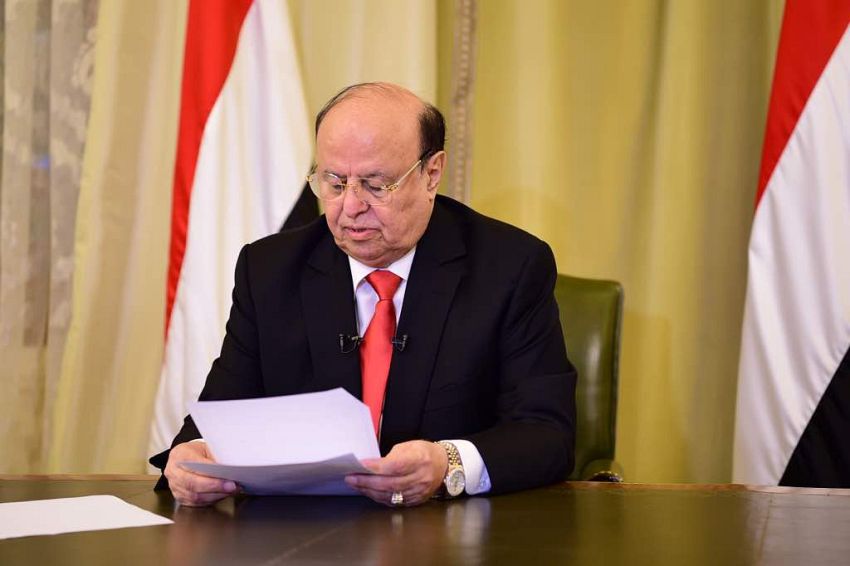 RIYADH-SABA
President Abd-Rabbu Mansour Hadi has renewed his call to all Yemeni people to stand by the federal system (approved by the National Dialogue Conference) that guarantees good governance, just power and wealth sharing and equal representation to all Yemeni people.

Our project is clear and firm, the project of the national consensus chosen by all Yemeni people's categories in the dialogue conference held in 2013 and is based on the state sovereignty, independence, freedom, justice and equal citizenship's principles, said president in his address to the people on the Eve of the 57th Ceremony of the 26th of September Revolution.

He reconfirmed that the battle for the state building will not stop and the struggle for freedom, democracy, equal citizenship, equal shares of power and wealth, realizing good governance and deep-rooting the federal state will continue as pledged to our people in the north and the south of the homeland.

We save no effort for seeking peace and "our white hands are still extended to all those who want a real peace based on the people's sovereignty and respecting its choices not by the force for oppression and humiliation."

"In this framework, we supported and still support efforts of the UN Secretary General and his special envoy Mr. Martin Griffiths and have made active and positive attendance in all consultation rounds, the recent one was Stockholm (consultations) we considered a progress for peace,and made big concessions for the sake of peace" he said.

"We call upon the international community to press for implementing them and not allowing to the militia to relinquish their commitments."

He valued all wise efforts of the Saudi leadership for realizing peace.

You are the state's supporters and its pride, and you are its force it seeks from you as it is yours and we are all in one march struggling for decent life to all Yemeni people without exception, exclusion or marginalization, he addressed the people.

He renewed call to the rebel militia, who overthrew the state and destroyed its institutions, to be wise and return to the three references agreed upon by all Yemeni people and supported by regional and international countries; the GCC Initiative and its Implementation Mechanism, the outcomes of the National Dialogue Conference and the UN Resolution 2216 and other relevant resolutions.

He also the rebel militias to surrender to Security Council's resolutions and stop challenging the will of the Yemeni people and return to reason, away of nationalistic claims and misleading initiatives for passing the coupist's agenda rejected by all Yemeni people.

He called upon those misled people to rebel against the state and its institutions to return to the right path and stop bloody approach, which only leads to more social split, incite for hatred and endangers people's lives.

"In this place, we send special best wishes to all heroes of the national army, who chose to stand by the state's front and decided to bring victory to it, and special best wishes to our sons in Shabwa … for their pride and modern approach," he said, adding " we issued directives to include all our sons from the elite (Shabwa Elite) in the national army as the state is for all and the army is the army of people.

He also addressed Hadhrami people as saying; to my sons in Hadhramout, I say we are with you, our project is yours and your demands are your right we will work to meet all your just demands.

"I issued directives to the government to work hard and for meeting all demands of our sons in Hadhramout and other (provinces) and you should not give a chance to those who want to drag this peaceful province to conflicts and chaos, protect your province and make it inside your eyes." He said.

He pointed to efforts for correcting any deviation (by any member of the Saudi-led coalition) and to attempts of failing these efforts through continuous mobilization and arming the rebel groups.




---

resident al-Alimi congratulates Italian President on his country's National Day

President al-Alimi receives American Ambassador

Leadership Council chair praises GCC for supporting Yemen and its just cause

President al-Alimi congratulates Turkish president on winning elections

President al-Alimi convenes high-profile meeting includes Speakers of Parliament, Shura Council

President al-Alimi praises UK's support for the Yemeni people

President al-Alimi receives Ambassador of the People's Republic of China

President al-Alimi discusses with UAE President latest developments in Yemen

President al-Alimi arrives in Abu Dhabi

Presidential Leadership Council holds session to discuss developments in the country