[29/10/2017 07:28]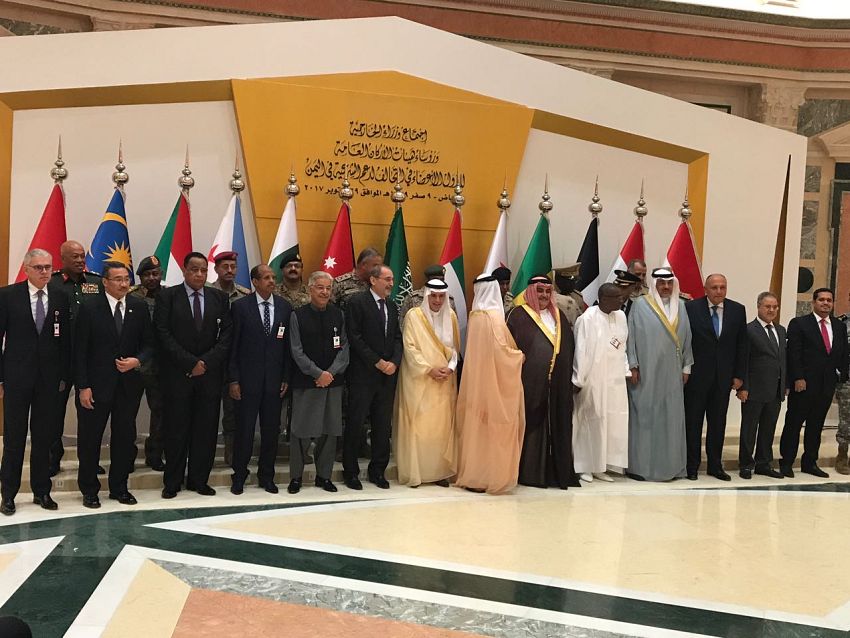 RIYADH-SABA

Foreign Ministers and Chiefs of Staffs of Saudi-led Arab Coalition aiming to restore legality in Yemen asserted that they are determined to counter hostile practices by Houthi-Saleh rebellious militias, they stand with Yemeni legality, security, stability, unity and integrated sovereignty, with protection of Yemeni people from constant violations by the militias, and work on countering Al-Qaeda organization and other terrorist groups.

In a final communique issued Sunday at the conclusion of a meeting held in Riyadh, the foreign ministers and chiefs of staffs said:" Their own countries had moved politically and militarily in response to a call by legal Yemeni government headed by President Abd-Rabbu M. Hadi and in compliance with a Security Council resolution 2216 against the rebellious militias that carried out a military coup against the State and occupied capital Sana'a".

The statement condemned actions by the coup d'état militias of killing Yemeni people, make them subjected to starvation, fearsome, diseases and misusing Yemeni people resources, and threatening security and stability of the region's nations including Saudi Arabia Kingdom, United Arab Emirates and Kingdom of Bahrain, as well as marine navigation in Bab Al-Mandab Straight, one the world's most important waterways.

The statement indicated that the attendees discussed what the UN Secretary General annual report incorporated about children in the armed conflict published on October 6, 2017, they rejected parts included incorrect data and information, calling on the UN to make review on the mechanisms of investigations.

The foreign ministers and chiefs of staffs strongly condemned the negative role Iran plays in backing the rebellious militias, providing them with weapons, ammunition , ballistic missiles and landmines in flagrant violation of the Security Council resolution 2216. They hold the Iranian regime and its tools responsible for messing up with the region security.

The attendees conveners decried blatant violations by the coup d'état militias against Muslims Sanctifies, targeting Holly lands of Mecca by missiles. They also denouncing the rebellious militias criminal practices such as using children in armed conflict and recruiting them, besieging cities and looting humanitarian aid.

The Saudi-Led Arab Coalition member states voiced their support to the efforts have been made by the UN envoy to Yemen Isma'il Ould Sheikh Ahmed based on the International Security Council resolution 2216, GCC's deal and National Dialogue's outcomes.


---

Ministry of Industry decries Houthi militias for getting the Yemenis starving

Prime Minister: We've to explore permanent solutions to power shortages

Baggash confers with Chinese diplomat over Houthi militias' escalations

Yemen participates in 26th session of the Committee on Science and Technology for Development

Eryani expresses surprise over international silence for Houthi abuse and atrocities against journalists

President al-Alimi: We're very keen to get all detainees released

The Ad hoc committee tasked with revising lists of the students abroad reports to prime minister

Prime Minister chairs joint meeting with the two Ministries of Defense, Finance

President al-Alimi meets with presidency of consultation authority

World Bank offers Yemen $ 207 million in aids