[15/02/2023 03:44]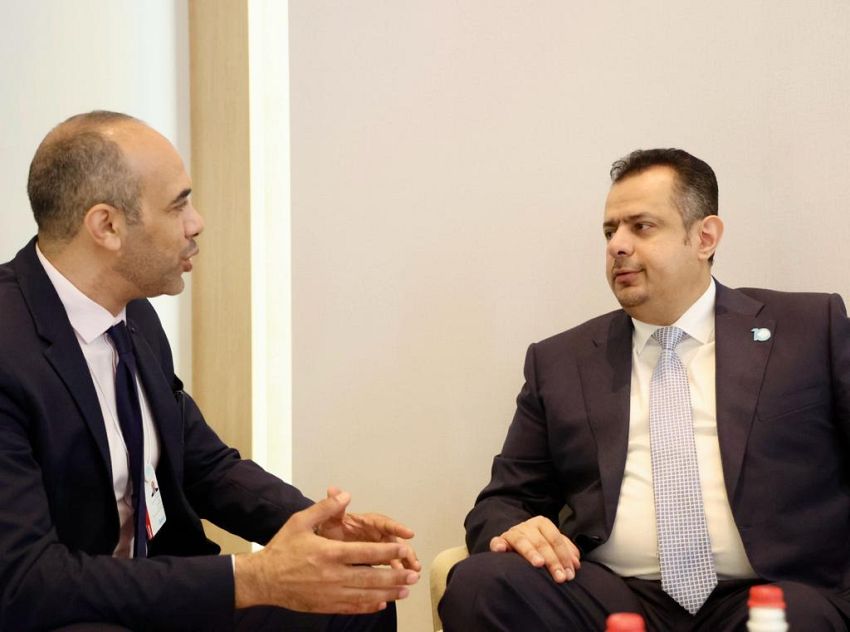 Aden – Saba
Prime Minister Dr. Maeen Abdulmalik praised the pivotal and historical role of the Arab brothers, especially the Coalition to Support Legitimacy led by the Kingdom of Saudi Arabia and the United Arab Emirates in supporting the Yemeni government, which will remain immortal in the memory of Yemenis.

He stressed that without the support, Yemen would have fell to the Iranian trap. In an interview he conducted with the Emirati newspaper, Al-Khaleej, which was published in its issue today, Wednesday, the Prime Minister reiterated the government's welcome, and the directives of the Presidential Leadership Council, toward real solutions and sustainable peace, concessions for the sake of citizens, but at the same time we reject any concessions that support terrorist militias and the war machine they use to kill citizens.

Regarding the efforts made to achieve peace in Yemen, and the position of the Houthis on those moves, Dr. Maeen Abdulmalik explained that everyone knows that the Houthis renounce their agreements, and have never committed to any agreements, and with the end of the humanitarian truce last October, the situation became more complicated due to terrorist attacks and the dangerous escalation.

The Houthis have targeted the oil export ports, which doubles the catastrophic human suffering caused by these militias.

He revealed that the movements of the United Nations and the efforts made by the UN envoy are nothing new and have stagnated since the end of the armistice last October, adding, "We are aware of the difficulties faced by the UN mediation efforts in light of the Houthi arrogance and clear intransigence, and we, as a government, are still adhering to the path of the United Nations to reach to peace, and we also look forward to tightening UN and international control over the Houthi terrorist militia, and taking deterrent measures on smuggled arms shipments.

The Prime Minister reviewed the complexities of the economic situation with the accumulation of the difficulties of the war, and the subsequent successive crises of the outbreak of the coronavirus and the Ukrainian-Russian war and its impact on the food supply chains, explaining that this led to an exacerbation of the economic situation and multiplying the challenges facing the government.

He said, "Therefore, we had to start In reforms to address the economic situation, reduce inflation and maintain relative stability in the price of the national currency, and some of these reforms, although painful, are necessary to avoid collapse. Regarding the political situation and peace efforts, the Prime Minister affirmed that he is still stagnating since the end of the humanitarian truce last October, which was sponsored by the United Nations.


---

FM: Evacuating all Yemeni citizens in Port Sudan evacuated

Arab-Chinese Forum puts emphasize on the unity, sovereignty and territorial integrity of Yemen

MASAM removes 875 Houthis-laid landmines in a week

Leadership Council chair praises GCC for supporting Yemen and its just cause

Higher Education Minister reviews with ILO implementing apprenticeship program

President al-Alimi convenes high-profile meeting includes Speakers of Parliament, Shura Council

Family killed and wounded as they drove over Houthi landmine in north Yemen

National Investigation Committee holds discussions with a team of Yemen Sanctions Panel

Eryani condemns Houthi storming of annual meeting of Baha'i sect and arrest of 17 participants

Dr. Abdullah al-Alimi praises American role in fighting terrorism, controlling weapons smuggling