[10/06/2021 09:01]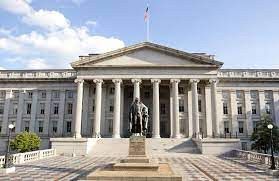 WASHINGTON - SABA
The US Department of the Treasury announced today that the Treasury's Office of Foreign Assets Control (OFAC) is designating members of a smuggling network that helps fund Iran's Islamic Revolutionary Guard Corps-Qods Force (IRGC-QF) and the Houthis in Yemen.

The Department reveal that the network" Led by Iran-based Houthi financier Sa'id al-Jamal, this network generates tens of millions of dollars in revenue from the sale of commodities, like Iranian petroleum, a significant portion of which is then directed through a complex network of intermediaries and exchange houses in multiple countries to the Houthis in Yemen".

The Director of the OFAC Andrea M. Gacki said "This network's financial support enables the Houthis' deplorable attacks threatening civilian and critical infrastructure in Yemen and Saudi Arabia.

He added "These attacks undermine efforts to bring the conflict to an end and, most tragically, starve tens of millions of innocent civilians. Ending the suffering of millions of Yemenis is of paramount concern to the United States, and we will continue to hold accountable those responsible for widespread misery and deny them access to the global financial system."
The Treasury's statement went on saying" Sa'id al-Jamal, an Iran-based Houthi financial supporter, directs a network of front companies and vessels that smuggle Iranian fuel, petroleum products, and other commodities to customers throughout the Middle East, Africa, and Asia. A significant portion of the revenue generated from these sales is directed through a complex international network of intermediaries and exchange houses to the Houthis in Yemen".

The statement added " Sa'id al-Jamal is being designated pursuant to E.O. 13224, as amended, for having materially assisted, sponsored, or provided financial, material, or technological support for, or goods or services to or in support of, the IRGC-QF.

The statement cited the names of Hani 'Abd-al-Majid Muhammad As'ad, a Turkey-based Yemeni accountant affiliated with the Houthis, Jami' 'Ali Muhammad, a Somali businessman and Houthi and IRGC-QF associate, has assisted Sa'id al-Jamal's efforts to procure vessels, facilitate shipments of Iranian fuel, and transfer funds for the benefit of the Houthis, Turkey-based Syrian national Talib 'Ali Husayn Al-Ahmad al-Rawi and Greece-based Syrian national Abdul Jalil Mallah have facilitated transactions worth millions of dollars to Swaid and Sons, a Yemen-based exchange house associated with the Houthis and Sa'id al-Jamal has used Swaid and Sons to send millions of dollars to IRGC-QF officials deployed in Yemen.

The US Secretary of State Antony Blinken said "It is time for the Huthis to accept a ceasefire and for all parties to resume political talks," Blinken said in a statement, adding "The United States will continue to apply pressure to the Huthis, including through targeted sanctions, to advance those goals".


---

Yemenia Airlines calls on Houthis to lift restrictions on over $80 million of the company's balances in Sana'a

Emergency vaccination campaign in Marib targets 93 thousand children

Security Council's members renew support to UN Envoy for peace in Yemen

Jawf Governor discusses with Dutch diplomat displaced people's needs

President al-Alimi congratulates on anniversary of establishing China

President al-Alimi sends letter to UAE President

Chief of Staff discusses with US Ambassador aspects of military and security cooperation

Human Rights calls Intl. Community to take serious action against Houthi crimes

Erada and Bin Nahid lay foundation stone for completing Marib International Airport project

New IDPs camp inaugurated and alternative classrooms distribute in Marib at a cost of $406,000