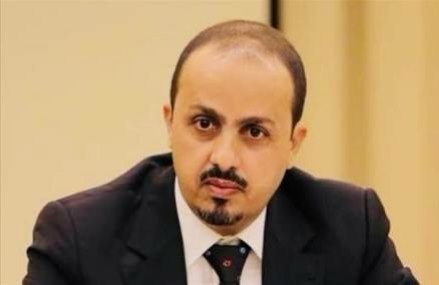 ADEN-SABA
Minister of Information Muamer Al-Iryani condemned oppressive and bullying policy that Houthi putschist militia has embarked on against the population in the militia controlled regions. These atrocities reached its climax on October 6 as the citizens attempted to protest against economic hardships, describing their move as "Hunger Uprising".
In a statement to the Yemeni News Agency (Saba) the minister said" To spread fearsome and terror among the population Houthi militia has opted for organizing military parades on a daily basis in the capital Sana'a, storming dormitory of Sana'a University's girls, arresting them and detaining social media activists. These atrocities intended to compel the citizens to succumb to its impoverishing and hunger policy".
Al-Iryani added" By doing so the Houthi militia has already turned capital Sana'a into large detention center, denying the peoples' political, social and economic rights, looting their subsistence and exercising the most gruesome forms of oppression, harassment and psychological bullying. With these savage actions Houthi militia has asserted itself as similar as Al-Qaeda and ISIS terrorist organizations".
The Minister called on the International Security Council, UN's envoy to Yemen and all interested international organizations to condemn these practices and mount pressure on the militia to release thousands of detainees including Maj. General Muhmood Al-Sabaihi, Maj. General Faisal Rajab and Brig. Nasser Mansour Hadi…"